James Goodey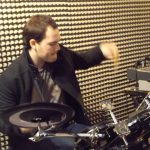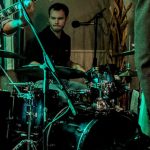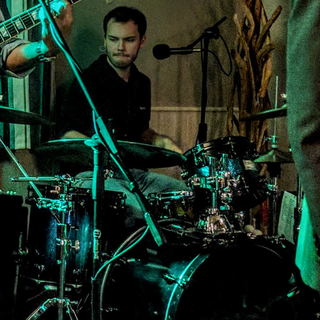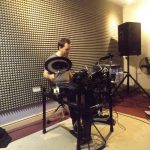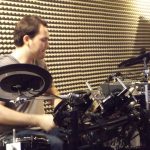 James Goodey is a full-time musician and music teacher, playing drums and guitar. Like Chris and Kate, he's had formal training in music (he's a Grade 8 drummer!). Even as the newest member of the band he settled in quickly and contributes some great new rhythmic ideas and production techniques to our sound.
In the beginning
James was born in Worcester, and moved to Shalford in Essex while at primary school. He started playing drums when he was 15. Initially self-taught, he soon realised he needed lessons and enrolled at a drum academy in Colchester. James followed the Trinity College London Grades curriculum reaching Grade 8 with distinction in 2016.
In 2011, James also started playing guitar. He says; "I decided that 'Sweet Child of Mine' would be easy enough to learn and make me look cool. It was not, and did not. However, I soon found that I enjoyed playing guitar almost as much as drums, and that, as they say, was that."
James has been gigging around Essex since 2012 in various bands, as well as playing in recordings and other session work. He has been teaching drums for six years, both privately and as part of a Drum Academy.
Musical Influences
Commenting on his musical influences, James says; "I try to bring a wide range of styles to my playing and strive to be the most 'tasteful' musician I can. Gun to my head I'd say Rock is my favourite genre, but I listen to so many types of music pinning one down as my favourite is almost impossible. At the time of writing I'm listening mainly to Folk and Blues, and also some Rock and Funk. Oh and a bit of reggae. Bizarrely, picking a favourite artist is easier. Queen. I love Queen, and Freddie Mercury was to my mind the greatest entertainer of his time."
We all have musical memories, and James has some good ones. "Playing at the Hope & Anchor in Islington was a big moment for me, playing in the same venue as so many famous bands over the years. But the oddest is that I once played with Thin Lizzy's equipment on a small stage in a village in Essex."
As a 'paying' hobby, James also turns to nature for inspiration. "I like to make pieces of wood into differently shaped pieces of wood; wood-turning I believe it's called. But I'm also a big science fiction fan."
Contacts
If you'd like to contact James Goodey about drum lessons, session work or to buy his wood-turning works, please email him at xxxxjammyxxxx@gmail.com