Marie Honeyfield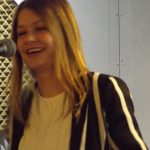 Marie Honeyfield is Hargreaves' lead vocalist. A prolific lyricist, she has collaborated with other band members to write several of our newest songs.
Marie moved from Berkshire to Suffolk in 2016. She started singing in public and song-writing in 2010 after, as she puts it; "Hiding my light under a bushel for a number of years!" Since then she's performed at various functions; pubs, fayres, and parties.
Marie has also previously sung with a couple of bands, and loves performing with other musicians. She also enjoys learning from other singers, so the opportunity to share centre stage and harmonise with Kate Kustova was a real draw when Hargreaves recruited her.
A love of singing
Marie says; "I'm interested in the dynamics of singing and constantly look at ways to improve my vocals. That improvement might come from working with a singing teacher teacher now and again, or trying out new harmonies with Kate. But always practice, practice, practice.  I enjoy learning new songs and genres and challenging myself."
Marie joined Hargreaves in 2017, and enjoys the combination of original and cover music.  As she says; "I also get to show creativity through song-writing, and hope to continue contributing to our original set lists."
Influences
"I am influenced by strong female leads such as Patti Smith, Cyndi Lauper, and Kate Bush," says Marie. And it may surprise some people to find out that her favourite band is Green Day; "I've seen them eight times!"  Marie also loves The Smiths and Fleetwood Mac. "I have found a new love in country music since joining Hargreaves, due to its melody but also melancholic lyrics!"
And her favourite musical moment; "Biffy Clyro at Le Trianon Paris; front row singing my head off."
Challenges for 2018
"Obviously getting the album finished, but also learning some guitar parts to take some of the load off Iulian."