All about Chris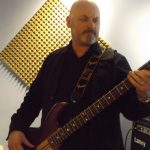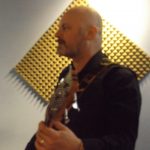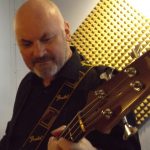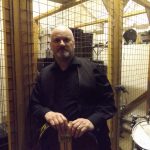 Name: Chris Webb

Band call me: I'd like to think 'Boss' but I think it's probably 'Bossy Boots'

Age: 57
Where do I live: Sible Hedingham, Essex
Where am I from: Bristol (via Yorkshire, Cheshire and Yorkshire again)

When did I join the band? I'm a founding member, so I've been in Hargreaves since 2006.

Pet's name: I have a Bedlington Terrier called Boris because he's a bit of an arse and he's got a mop of blond hair on his head (when he's been clipped properly).
Car's name: Lemmy – because I drive a Silver Machine.
Favourite musician/band – Anyone who knows me will assume it's Queen, but I think The Only Ones and The Stranglers are probably my favourite bands. My favourite musician is probably saxophonist Clare Hirst, certainly, amongst those I've heard play live.
Favourite song – Bohemian Rhapsody is what woke me up to music. Yesterday is arguably the greatest song ever written. Crossroads is definitely the most influential, Goodbye is the saddest. But my favourite is Hi! by Claire Ashton – I have a co-writing credit for that so does it count?
Favourite film – Not a huge film fan, so I'm going to say a favourite book. Room on the Broom by Julia Donaldson and Axel Scheffler which I bought for my daughter by mistake thinking it was a Winnie The Witch book, but closely followed by Catch 22, The Hitchhiker's Guide to the Galaxy and A Bear Called Paddington, which I think actually deal with the same issues but for three different age groups.
Favourite sportsman/woman – Shirley Strong! She brought British hurdlers onto the world stage. I met her a couple of times. The first time was in an athletes' enclosure at a race where one of my athletes was competing against her. Shirley asked me for a light for her cigarette. She just did it all her own way, and it turns out she was right. Otherwise racing drivers Jackie Icks, Derek Bell, Graham Hill, Fernando Alonso and Jensen Button.
Stupid thing I admit to doing – So many to choose from, though most of the best ones seemed sensible enough at the time. Probably doing a flight from LA to Manchester, and then dropping into the office on the way home to do a couple of hours work. The journey home was interrupted by a loud bang. I had fallen asleep and driven onto a pavement in front of a bus stop. I didn't hit anything, plus it was Prestbury so therefore no-one was waiting for the bus (thankfully). It had the side benefit of keeping me fully awake for the rest of the journey home.
Dream Instrument – I own a 1981 Aria Pro II SB700. I bought an SB1000 in 1980 which I had for a couple of years, and I've also owned an SB R-60. The Aria SB created the 'sound' of so much music in the 1980s, plus it is much better made and more versatile than a Fender Precision or Jazz. I'd also like an Aria CS400 guitar or a nicely modified Telecaster, and I'd love to have a Lakewood acoustic. Maybe one day … A nice baby-grand piano would be cool too, but that would have to double as a kitchen table as we don't have room at home.

Interesting facts about me: I used to coach track & field athletics at a pretty high standard. I found out fairly young that I was a much better coach than athlete and did that for about 20 years. I got into athletics and into music because I was severely asthmatic as a child. My doctor recommended running to strengthen my lungs, and playing a  woodwind instrument to learn breath control – so I have a Grade 4 in flute and coached about a dozen athletes to international honours or national championship finals or medals. 
I started playing music and singing in the choir of Holymead Primary School. I performed with the school at Bristol Cathedral and The Colston Hall. While at that school I started learning guitar on a B&M Admira classical instrument. I still have a B&M Admira, but sadly not the original bought by my parents.
When I moved to Secondary school I met teachers Will Glasby (bass player with folk/rock group Corkscrew) and Digby Dent (very well known on the folk circuit, with cameo parts on TV). They taught me a number of simplified songs and introduced me to bass guitar and that was it!
I work in Public Relations outside of music, and I was Press Officer of the Lancia Motor Club for a short while when I owned a 1972 Lancia Fulvia sports car.
Also, I share my birthday with Lou (though she's obviously a bit older than me).
.