All about Liam
Name = Liam Mabbatt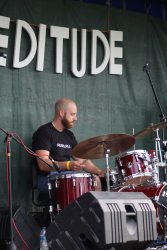 What do the band call you = Liam?
Age = 28
Day job = Mechanical Fitter
Where do you live = Halstead
Where were you born = Harold Wood.
When did you join Hargreaves = Sometime in late 2018
What's your pet's name = Bertie and Badger (cats) and Gordon the Tortoise

What is your favourite band/musician = Too many bands to name a favourite… My favourite musician would, of course, be a drummer and again too many to choose from but I suppose… Clyde Stubblefield or Bernard Purdie
Favourite record = It's hard to choose again….. Herbie Hancock – Chameleon/Watermelon man, or George Benson – Breezin'.  Could be many others (I do love the funk) 
Favourite film = These questions are hard!  Return of the Jedi is pretty good … or The Empire Strikes Back.
Favourite sportsman – Laurent Koscielny (Arsenal centre-half and captain)
What's the most stupid thing you've done that you will admit to? It was mine and Sarah's (Mrs Mabbatt) first night out together after Emily (baby Mabbatt) was born. We went to Sarah's best friends wedding and iI got so drunk they sat me in a corner and left me. Never again.
Dream instrument = Bass. Would love to play funky bass, but I have sausage fingers